0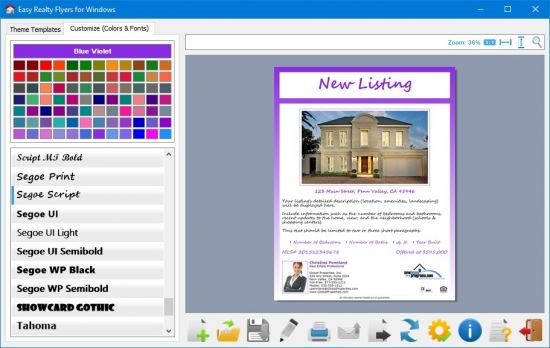 Easy Realty Flyers 2.1.1802.12 | 4.33 MB

Designed for real estate professionals on-the-go, Easy Realty Flyers makes it fast and easy to create eye-catching real estate flyers without sacrificing power and features.
Originally developed and published in 2006 (here's a screenshot of Easy Realty Flyers 2006), Easy Realty Flyers is a complete re-design and rewrite utilizing the latest Windows imaging technologies.
A brand-new rendering engine creates clean, business crisp real estate flyers with some new and exciting features (such as gradient-filled flyer templates).
Create Your Real Estate Flyer in Minutes:
Provide Your Listing Details
Enter in your listing's details, description, features and photos.
Choose & Customize A Flyer Template
Pick from 33 free flyer templates. Choose from 84 Vibrant Colors & Any TrueType Font
Print/Share Your Finished Flyer
Print your flyer in-house or send it to your favorite office supply/print & copy store.
Features Designed To Simplify Flyer Creation:
Form Based Design & Layout
With Easy Realty Flyers you don't need to be an expert with desktop publishing applications. There's no need to spend time resizing and nudging photos into the correct position or choosing which typeface and size to use for the headline, details, features and listing description.
Easy Realty Flyers is form based, so you simply provide your profile information (photo, logo and contact details) and listing details (photos, description, MLS#, address and key features).
Pick from 33 free designer real estate flyer templates, choose 1 of 84 vibrant colors, select any typeface from your PC and your done!
WYSIWYG (What you see is what you get)
Real-time preview window displays your real estate flyer and automatically updates to reflect your design choices.
Advanced Zoom controls allow you to view your real estate flyer in various sizes (page width, page height, 1-1) and also use the mouse wheel to zoom in and out (up to 200%).
1-Click Real Estate Flyer Exporting
You can easily export and save your real estate flyer to several popular formats (such as PDF, Windows BMP, JPEG, PNG and TIFF).
With Easy Realty Flyers you can scale (up to 500%) and save your real estate flyer so it can be printed at your favorite office supply or print & copy store.
Homepage
Download
Single Link